| Shifting Type | Starting From |
| --- | --- |
| Up to 2 items | Rs 1400 |
| 1RK/Studio | Rs 2100 |
| 1BHK | Rs 4463 |
| 2BHK | Rs 6195 |
| 3BHK | Rs 10248 |
| 4BHK | Rs 14364 |
---
Why Govind Relocation?
5+
Verified Reviewed Users
Removals

Removals are the services provided by movers and packers. They include packing, loading, transportation, unloading, unpicking, rearranging, and cleaning.
Professional movers packers
Safe move, Safe storage
Sanitized and professional employees and workers
Safe packing materials for grocery and glass items
Looking for professional packers and movers service?
If you're looking for a professional packers and movers service, you've come to the right place. Moving can be a stressful and overwhelming experience, but with the help of a reputable moving company, you can ease your burden and enjoy a smooth transition to your new home.
Yelahanka New Town
---
At Govind Relocation Packers and Movers, we provide reliable and efficient moving services that are tailored to meet your specific needs. Whether you're moving locally or long-distance, our team of experienced movers will work closely with you to ensure a stress-free moving experience.
Our packers and movers services include everything from packing and loading to transportation and unloading. We use high-quality packing materials to ensure the safe transportation of your belongings and handle each item with the utmost care.
In addition to our standard moving services, we also offer additional services such as storage solutions, unpacking, and debris removal. We understand that every move is unique, and we strive to provide personalized services that cater to your individual needs.
At Govind Relocation Packers and Movers, we take pride in our commitment to providing exceptional customer service. Our team of professionals is dedicated to ensuring your satisfaction and will go above and beyond to meet your expectations.
So if you're in need of a professional packers and movers service, look no further than Govind Packers and Movers. Contact us today to learn more about our services and to request a free quote.
1. Moving companies

Moving companies are professionals who specialize in moving people and their belongings from one location to another. They provide services such as packing, loading, transporting, unloading, unpacking, arranging furniture, and cleaning.

2. Packers and Movers

Packers and movers are individuals who offer these services. They may work independently or they may belong to a company.

3. Household goods

Household goods are items that are necessary for daily use at home. These include kitchen appliances, bedding, clothing, books, etc.

4. Packing materials

Packing materials are the things that help us pack our household goods. They include boxes, bubble wrap, tape, blankets, and plastic sheets.

5. Loading and Unloading

Loading and unloading are two processes that occur while moving. In loading, we load the household goods onto a truck or van. In unloading, we take out the household goods from the vehicle and place them in the destination address.

6. Relocation

Relocation is the act of moving from one house or apartment to another. It includes both physical relocation (moving) and emotional relocation (adjusting).
---
Why Govind Relaoction?
The best answere of "Why Govind Relaoction?" is, we offer fast and safe services at best prices. We offer reliable door-to-door services at an affordable price. We offer a wide range of safe and reliable services, including packing, moving, and storage. Our experienced team will take care of everything, so you can relax and enjoy your move. We offer safe, door-to-door city-to-city all-India services. We offer low price Packers and Movers services that are reliable and efficient. We also provide insurance coverage for your belongings. We belong to the Indian Packers and Movers Association and are a legally recognised business. We have a track record of exceeding client standards and offering top-notch relocation services. We also have a licence and insurance.

Household Shifting
Household shifting is a process that can be very daunting. It's not only hard to pack all of your belongings, but also to find a reliable and affordable moving company to transport everything. That's where we come in! We are a professional movers and packers company that provides door-to-door household shifting services within the city as well as all over India. We have years of experience in the industry.

Warehouse & Storage Service
We also provide door to door shifting within the city and all over India. We have a team of experienced professionals who will take care of your belongings and ensure that they are transported safely to the destination.

Car Carrier Service
Govind relocation provides car carrier service within the city and outside of the city in all over India. We have a wide range of car carrier vehicles that can accommodate any type of car. Our car carrier service is reliable, safe, and affordable. Govind Relocation provides car carrier service within city and outside of city in all over India. Our car carrier service is safe and reliable. We have a team of experienced and professional car carriers who will take care of your car while it is in transit.

Office/Corporate Shifting
Govind relcoation is a packers movers office corporate shifting company that provides relocation services within the city and outside of the city in all over India. We offer a variety of services such as packing, moving, and corporate shifting. Our team is experienced and qualified to handle your relocation needs quickly and efficiently.
---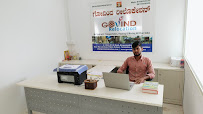 Visit Govind Relocation Packer & Mover Branch
Visit govind relocation packer & mover office branch to know more about us. 118/2 Signayakahalli,
Govind Relocation Packer and Mover, Bangalore
Near Government High School, Bengaluru, Karnataka 560064 (India)

Monday-Sunday 06:00am - 09:00pm
Monday-Saturday 06:00am - 09:00pm
Friday-Saturday 06:00am - 09:00pm
Last updated 12 mins ago